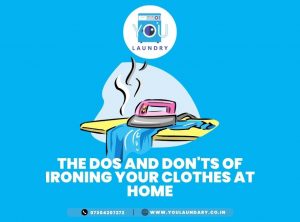 Youlaundry always suggests everyone iron their clothes in the laundry because it can be really dangerous to have clothes ironed at home. We come with Dos and Don'ts of Ironing Your Clothes at Home.
Read Dos and Don'ts of Ironing Your Clothes at home which can be a cost-effective option, but it's important to be aware of the dos and don'ts to avoid damaging your clothing items. Here are some tips for ironing your clothes at home:
Dos:
Use the Right Temperature: Check the care label on your clothing items to determine the appropriate ironing temperature. Using too high of a temperature can burn or melt the fabric.
Use Distilled Water: Use distilled water in your iron to prevent mineral buildup that can damage your clothing items.
Iron in the Right Order: Start with the collars and cuffs and work your way down to avoid creating new wrinkles.
Don'ts:
Iron Over Stains: Ironing over stains can set them in permanently.
Iron Damp Clothes: Ironing damp clothes can cause damage and shrinkage.
Don't Iron Over Zippers or Buttons: Ironing over zippers or buttons can damage them or create unsightly dents in the fabric.
Don't Leave the Iron on One Spot for Too Long: Leaving the iron on one spot for too long can scorch or burn the fabric.
Don't Use Too Much Pressure: Using too much pressure while ironing can cause the fabric to stretch or become distorted.
At You Laundry Services, our professional ironing services use the right temperature and techniques to ensure that your clothes are perfectly pressed without any damage or distortion. Visit our google profile to directly talk to us.
Read more blogs to take care of your clothes.