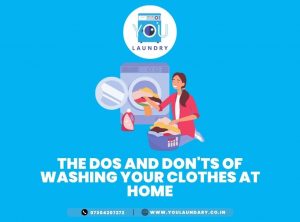 You Laundry always focuses on the help of everyone and we know India is a growing country and everyone here want to save some money. We come up with some Dos and Don'ts of Washing Your Clothes at Home. And You laundry want to save your money & clothe both at a time.
Washing your clothes at home can be a cost-effective and convenient way to keep your wardrobe clean and fresh. And following the right dos and don't is important to ensure that your clothes are properly cleaned and cared. Here are some dos and don'ts for washing your clothes at home:
The Dos:
Sort Your Clothes: Sort your clothes by color, fabric type, and level of soiling to prevent color bleeding and damage to delicate fabrics.
Use the Right Amount of Detergent: Follow the detergent manufacturer's instructions and use the right amount of detergent to ensure that your clothes are properly cleaned. Using too much detergent can cause residue buildup and damage to the fabric.
Check the Labels: Check the care labels on your clothes and follow the washing instructions to avoid damage to the fabric.
Use the Right Water Temperature: Use the appropriate water temperature for your clothes. Hot water can cause shrinking and fading and while cold water may not be effective at removing stains.
Use Fabric Softener: Fabric softener can make your clothes feel softer and smell fresher.
The Don'ts:
Don't Overload the Washer: Overloading the washer can prevent clothes from getting properly cleaned and cause damage to the machine.
Don't Mix Colors: Mixing colors can cause bleeding and staining.
Don't Use Bleach on Colored Clothes: Bleach can cause discoloration and damage to colored clothes.
Don't Leave Clothes in the Washer for Too Long: Leaving clothes in the washer for too long can cause mildew and odor buildup.
Don't Tumble Dry Delicate Fabrics: Tumble drying delicate fabrics can cause shrinking and damage to the fabric.
At You Laundry Services, we offer professional laundry services that follow these dos and don'ts to ensure that your clothes are properly cleaned and cared for. Our staff is trained to sort, wash, and dry clothes using the appropriate methods and equipment. We also offer a variety of detergents and fabric softeners to choose from to meet your specific needs.