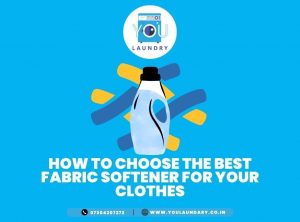 You laundry is famous for taking care of clothes as much as you will for you clothes. That why we are here to help you in "How to Choose the Best Fabric Softener for Your Clothes?".
Choosing the right fabric softener can make your clothes feel softer and smell fresher. Here are some tips for choosing the best fabric softener for your clothes:
Consider the Type of Fabric:
Choose a fabric softener that is appropriate for the type of fabric you are washing. Delicate fabrics like silk and wool require a gentle fabric softener.
Scent:  Choose a fabric softener with a scent that you like. You can also choose an unscented fabric softener if you prefer.
Hypoallergenic: If you have sensitive skin or allergies, choose a hypoallergenic fabric softener that is free of harsh chemicals.
At You Laundry Services, we offer a variety of fabric softeners to choose from, including hypoallergenic and scented options. We can also help you choose the best fabric softener for your clothes.
Article 6 -"The Importance of Professional Stain Removal for Tough Stains"
Professional stain removal is essential for tough stains that cannot be removed by regular washing. Here's why:
Proper Identification: Our staff is trained to identify different types of stains and choose the appropriate treatment for each one.
Specialized Equipment: We use specialized equipment and solvents to safely and effectively remove tough stains without damaging the fabric.
Prevents Damage: Removing tough stains can prevent damage to the fabric and extend the lifespan of your clothing items.
At You Laundry Services, we offer professional stain removal services that are safe and effective for tough stains like grease, ink, and wine.